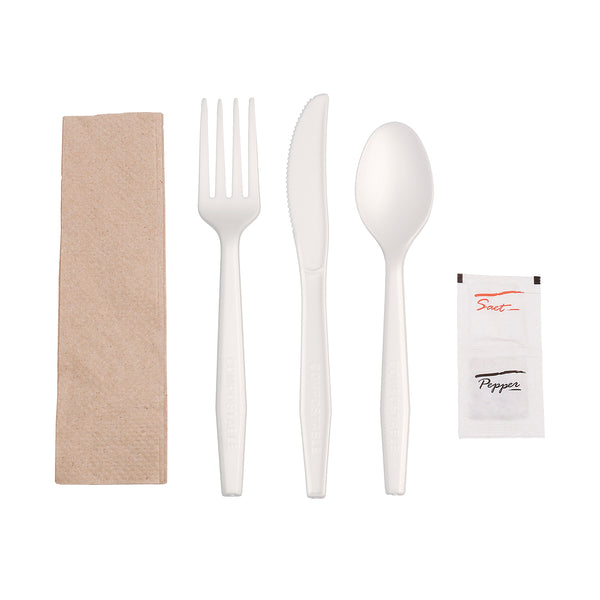 Compostable Cutlery:
Fork, Knife and Spoon - 6KL801W01
PrimeWare's new extended line of CPLA cutlery gives your food service operation the perfect balance between strength, heat resistance and eco-friendly compostability. This wrapped cutlery kit contains a white heavy CPLA fork, spoon and knife, in addition to a 13" x 13" 1 ply kraft napkin and a salt and pepper packet.
Strong: made from renewable crystallized PLA
Heat Resistant: can be used with heavy, high temperature foods — up to 194˚
Compostable: Meets ASTM D6400 and/or D6868 for Compostability
Will break down within 60 days in an industrial composting facility
Compostable PBAT film is used for cutlery kits and individually wrapped items
Salt & pepper packets and the single ply kraft napkin are also compostable
Master UPC

00072288145254

Case Dimensions

L: 15.748 IN W: 7.874 IN H: 13.386 IN

Material
CPLA
Color
White
Food Handling
Cold or Hot Foods
Ecological
Made From Renewable Resources
Certifications
Meets ASTM D6400 and/or D6868 for Compostability
FDA Approved For Food Contact.